"A place to discover what total wellness and nature can do for you"
At Sans Wellness, we are committed to re-establish health, or prevent disease using naturopathic principles. With sustainability as its heart, and warmth as its soul, Sans Wellness is a highly rated naturopathy center with a complete health restoration package that helps its guests embrace a healthy and pain-free lifestyle!
To achieve Sans Hollistic Experience, we provide natural, conventional, empiric, and evidence-based natural medicine techniques that are at the core of naturopathic medicine's underlying concept, which places an emphasis on wellbeing, optimal health, and the prevention of chronic disease. We believe that Sans Holistic Lifestyle should consist of the following elements:
• Body Purification • Genki-Physio Circulation • Adequate Nutrition • Healthy Lifestyle • Mental Balance 
We are passionate about providing excellence in customer service and committed to providing our valued customers professional beauty and wellness therapy with pure natural techniques.
Sans Wellness
Signature Therapy
Genkilogy
Our unique self-developed therapy that clears meridian blockage, promotes blood circulation and aids in detoxification to achieve a balance of health and well-being, with plant-based "life force energy" essential oils and specialized Genki Tool.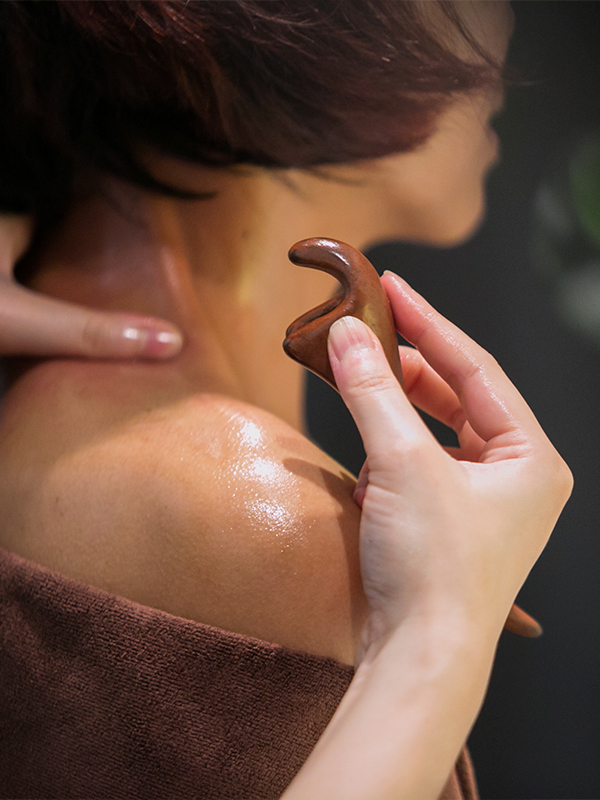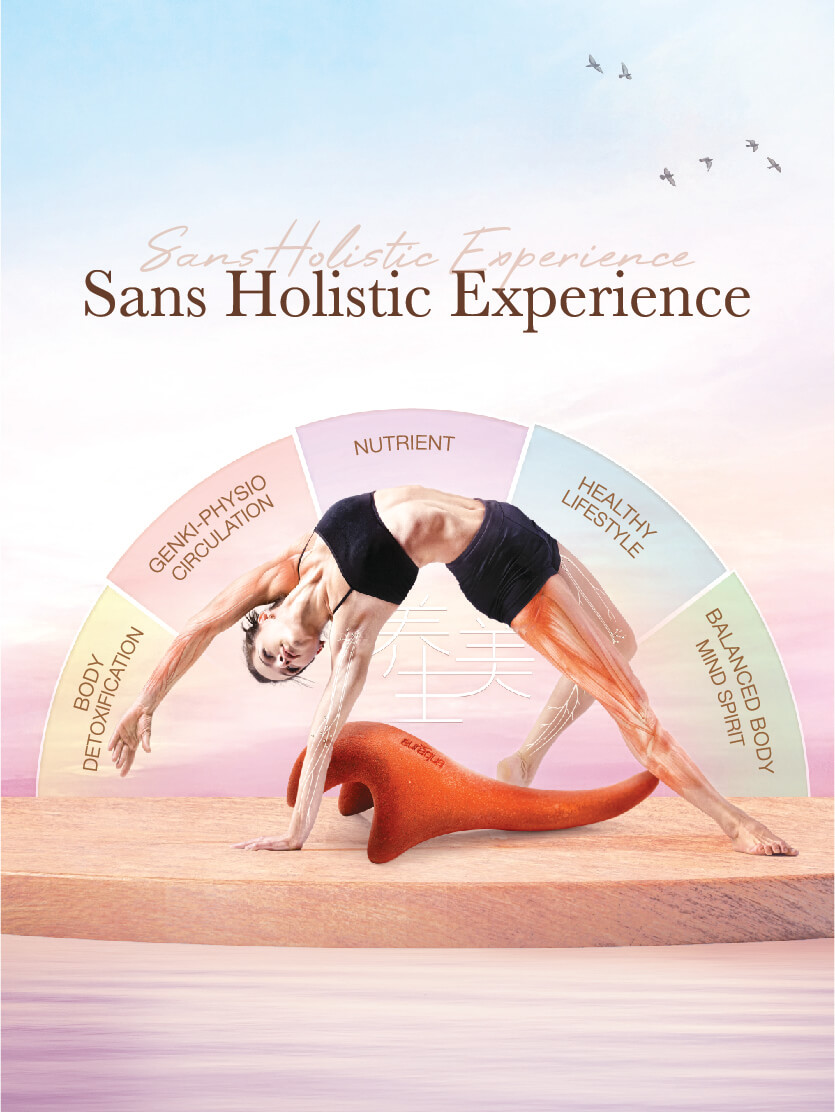 Sans Holistic Experience
Harnessing the healing power of nature to nurture you
The Sans philosophy enables emotional, mental and physical wellness in achieving a state of mindfulness and awareness on leading a fulfilling healthy and growth in our lives. We want to bring the philosophy of Sans retreat to a mental health and wellbeing facility which enables every one's good sense of positivity, happiness and wellness.
Harnessing nature to nurture the societies.
Pure Therapeutic Hand Massage
Pure Therapeutic Hand Massage
Gentle and wholesome massage techniques which do not involve any invasive device or chemical component tool.
In-House Genki Tool
The Genki Tool is highly recommended for instant relief of muscle pain and tightness, to increase blood circulation and flexibility of your body.
Natural Botanical Essential Oils
Natural Botanical Essential Oils
Used in conjunction with the Genki Tool, it can restore the normal functioning of the lymphoid system and keep the body healthy of toxins.
Meridian Energy Health
 A holistic approach to healing the body by accessing the body's energy system through a network of meridians or channels that move the life force or qi through the body.
Trained Professionals
All of our therapists are professionally trained to provide treatment and rehabilitation throughout at least 15 courses during their tenure with Sans Wellness.
4 Types of Body Health Evaluation & Assessment
Health investigation, BIA, GenkiWave and posture assessment.
Signature Genki-Physio Therapy
To unblock the flow of energy and restore energetic balance.
Exclusive Vital Energy Physical Treatment
Far-infrared Energised Therapy to improve circulation and support overall health.
Genkilogy Essential Oil
Easily penetrates cells and blood, doubling the efficacy.
Physical Exercise at Home
As a daily maintenance, it can prevent blocked meridians, acupuncture points, muscles stiffness and joints.
Whether you have been with us in the past, or you are trying it for the first time, you want to be sure that the therapist you're seeing is experienced and offers references from past patients based on their competence and professional experiences.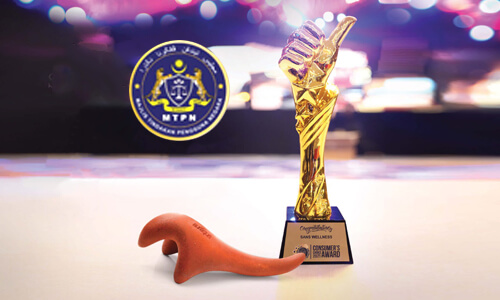 Accolades
Sans Wellness is famous for its internal and external conditioning. Over the years, it has won more than 20 domestic and foreign enterprise awards, including the Asian Integrity Product Award, ICA International Enterprise Award, Xingzhou Enterprise Model Award (service and product category), Malaysia Famous Brand Award and ASEAN Outstanding Enterprise Award.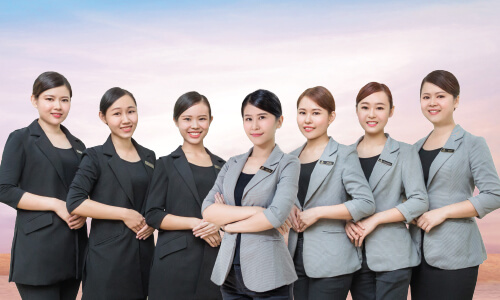 Principle
We have over 20 health beauty naturopathy centers and 200 professional physiotherapists in Malaysia and Indonesia. We've helped more than 100,000 customers solve various health problems, such as shoulder and neck pain, insomnia, migraine, numbness of limbs, listlessness, infertility, obesity, lymph swelling, weakness, qi deficiency, memory loss, etc.
Recognition
 In 2014, Sans Wellness was officially awarded the chain health care and natural therapy center by the Ministry of International Trade and Industry (MITI) Malaysia. In 2019, the brand was recommended by the Federation of Malaysian Consumers Associations, and it was highly praised by many customers on all social media platforms.

Below are just a few testimonials for Sans Wellness. We look forward to hearing your valued opinion too!
Click here to send us your review
Charlie, 41
I was always suffering from tension and pain around my shoulders. I often found my neck to be very stiff and even in the night, I would have difficulties in sleeping due to the tenseness. But all of that changed ever since my colleagues introduced me to Sans Wellness.